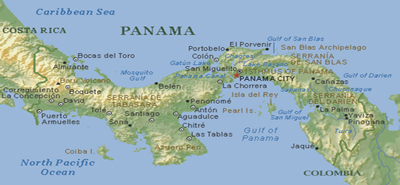 PANAMA IS MORE THAN A CANAL. IT IS A PARADISE, with excellent weather, numerous diverse ecosystems, and breathtaking coastal areas. One can enjoy a high standard of living for a fraction of the cost in the US and Europe. There are numerous retirement incentives, affordable real estate, and excellent healthcare at affordable rates.
As you explore many of the opportunities in the numerous areas of the country you need to understand that, the growth in construction isn't limited to just the city. An hour away is the Coronado resort area and its surrounding towns, where beach condominiums, residential communities and all-inclusive resort hotels sit right up on the quiet beaches of the Pacific.
Further west is the Azuero Peninsula that is just now beginning to experience growth in towns like Las Tablas and Pedasi. As you journey towards Costa Rica and the Chiriqui Province you will visit the bustling city of David and the marine sanctuary off of Boca Chica, home to Coiba Island National Park, the largest island in the Pacific south of Vancouver. You will travel to Boquete in the cool western highlands and then over the central mountain range to its northern neighbor, Bocas del Toro, with its pristine Caribbean islands and beaches. All of these areas are experiencing a significant level of interest by travelers, investors and developers.
Here are some links to facts on Panama:
Meet Panama – Panama, where the world meets
As the bridge between North and South America and the corridor for East-West trade, Panama doesn't just sit at the center of the 21st century global economy, it makes it possible.
Panama – Wikipedia, the free encyclopedia
Panama, officially the Republic of Panama (Spanish: República de Panamá), is the southernmost country of Central America
Panama – U.S. State Department
Facts about the land, people, history, government, political conditions, economy, foreign relations of Panama.
Other things to keep in mind about Panama:
We are often asked why invest in Panama. We offer a few reasons that we see as a constant in all discussions with people who have experienced significant successes here.
Panama Canal expansion a cornerstone of the global transport system
Panama Qatar Occidental Petroleum Oil Refinery Agreement
The banking system in Panama is world-class. A law passed in 1998 modernized this sector and enhanced the Government's regulatory function. Banking institutions have strong ties to both Latin American and G7 countries. There are more than 120 banks in Panama City, making it a serious player in the international financial stage.
Panama´s ambiance welcomes ethnic diversity and people from all countries and walks of life, lacking the common hostility found in many corners of the world. Because the isthmus holds a central position as a transit zone, Panama has long enjoyed a measure of ethnic diversity.
Cost of living is low and life is quite easy, as domestic labor is still available quite inexpensively.
Accessibility: There are mayor airlines offering daily flights to mayor cities of the world.
Security is not a major issue in Panama.
Health Care: 5 major private hospitals provide us all with tranquility. Johns Hopkins, Miami Children's Hospital, Tulane University and Miami's Baptist Health Center are affiliated to a number of Hospitals here.
Panama does not have hurricanes or other major weather events or seismic events
Property: There is only one Public Registry, thus one title for each property. Title insurance is also available if requested.
English is widely spoken
Major Corporation relocating or opening new offices – Dell, Caterpillar, Singapore Airlines
Colon Free Trade Zone ("CFZ") is the largest free zone in the Americas and the second largest in the world.
Latin America remains resilient to the international credit crunch.
Fitch Global Sovereign Review expects LatAm including Panama to maintain relatively healthy growth rate.
Gross Domestic Product has reached rates of  , 8.1%, 8 %,  8.5%, 9%, 9.5%, 9.5% during  2007 , 2008, 2009, 2010, 2011 and 2012 respectively. Since 2012 GDP has been lower but still was about 6% in 2015 and 5.5% in 2016 where it is expected to remain stable going into 2017.
Investment Stability Law provides a 10 year stability as of the registration of the investment that all legal, tax, customs, municipal and labor rules will remain identical to those in force at the time of registration. This is an important guarantee to secure no-changes will affect the amortization of investments.
Panama is at the top of the list of the Latin American countries with best access to capital.
Panama's currency, the Balboa, is at par with the US dollar since 1904.
Another important fact about Panama and the investment climate is the existence of Law Number 8 (Enacted in 1994) is the most comprehensive law for the promotion of tourism investment in Latin America.
The incentives and benefits under this law are available to natural persons or companies engaged in tourist activities registered at the National Registry of Tourism (Registro Nacional de Turismo) and certified by the Panama Government Tourism Bureau (Instituto Panameño de Turismo – IPAT).
These include public lodgings, tour agencies, tourist transport services, tourist restaurants, discotheques, nightclubs, recreational or theme parks, zoos, convention centers, and marinas.
The incentives for tourism investments include:
Up to 20-year exoneration from real property taxes (including land)
20-year exoneration of import duties of all materials, vessels, vehicles, and equipment used to build and furnish public lodging establishments.
Exoneration from any tax or assessment on its capital.
Exoneration of all fees for using piers, airports or heliports.
Income tax exemption on interest earned by creditors of public lodgings.
10% annual real property depreciation (not including the cost of the land).
Twenty (20) years full exoneration from the payment of real property tax on the land or any improvements owned and being used for tourist development activities.
Fifteen (15) years full exoneration from the payment of income tax.
Twenty (20) years full exoneration on import duties and sales tax on imported materials, equipment, furniture, accessories and spare parts used to construct, renovate and furnish their establishments.
Twenty (20) years exoneration from duties, contributions, taxes or fees on the use of piers or airports built by the company. The Government of Panama may use these facilities free of charges, according to the appropriate regulations.
Twenty (20) years exoneration from the payment of income tax on interest earned by its creditors from tourist activity operations.