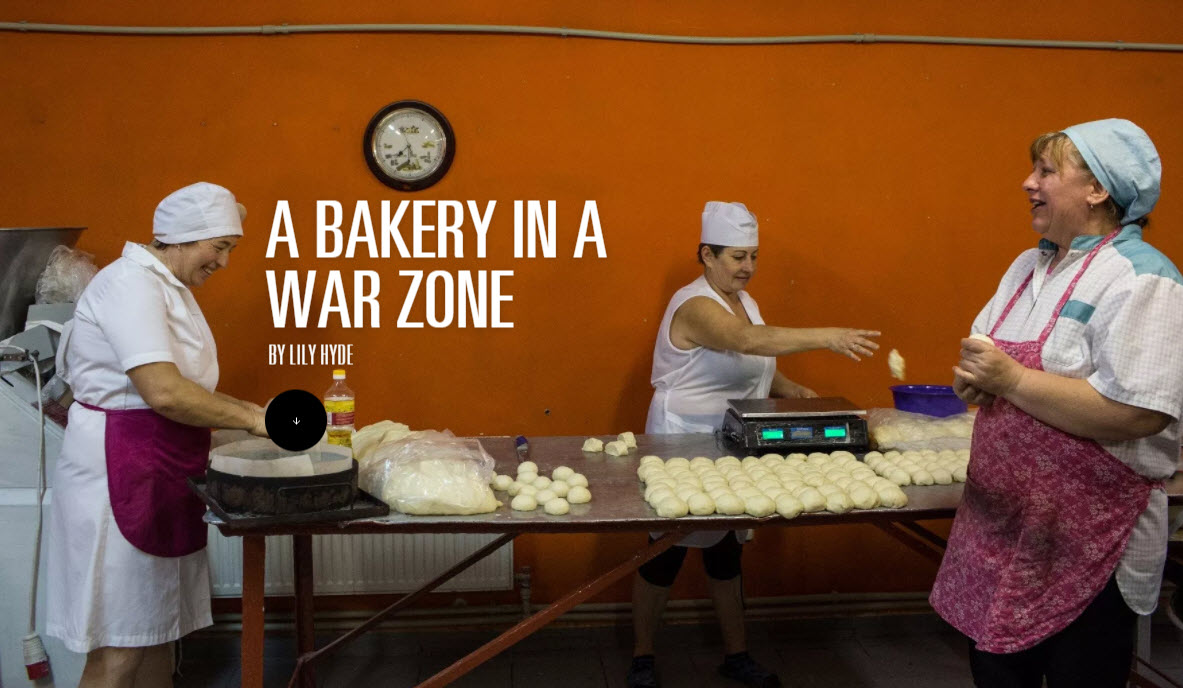 It's a very small cup: blue dotted with yellow, the colors of the Ukrainian flag. But for Yelena, it holds a lot of history. It's a reminder of almost thirty years' labor, and of the day they ended in summer 2014, when an artillery shell landed on the bread factory where she'd worked all her life in Mariinka, east Ukraine.
Now, the cup sits on a table beside an Orthodox icon in Mariinka's small, local bakery; a survivor of the on-going war in east Ukraine. "We went back [to the factory] after it was bombed," Yelena tells me, "and I saw my cup there. I cried. And my little stool was still there… The icon too, our icon. We had a table in the workshop, like now, and it was above the table all the time."
Yelena's new workshop is in a former supermarket in Mariinka town center, a 'gray zone' in a conflict that's claimed 10,000 lives since 2014. Reborn from staff and equipment of the destroyed factory, the non-profit bakery was opened in March 2016 by the Dobra Vest (Good News) evangelical church. It's Ukraine's first frontline workplace-generating enterprise, and a haven from the politics, propaganda, and violence that have torn Mariinka apart.
It's late evening in the spring of 2017, although with no windows lining the bright, orange-painted walls it's hard to tell the time, or hear the boom and rattle of artillery and machine-gun fire that starts up outside at 5 p.m., prompt as a curfew siren emptying the streets. Because of the shooting, workers stay all night at the bakery. It's too dangerous to go home before morning.
The biscuit mixture is resting; the first batch of bread loaves is in the ovens. Yelena and fellow baker Olya work together with the speed and ease of long practice, making pizzas and buns that the bakery sells for just under market price in Mariinka and surrounding towns, or distributes for free to citizens deprived of work and income, gas and water, homes and family, by the war.
"We're trying to make something tasty for people, because you see how we live here," says Yelena. "If it ends one day—and God willing, every war has to end—well, then we'll have to live further."
Thomas H. Brymer II
We invite you to visit our country and learn if
Panama Real Estate
is right for you.