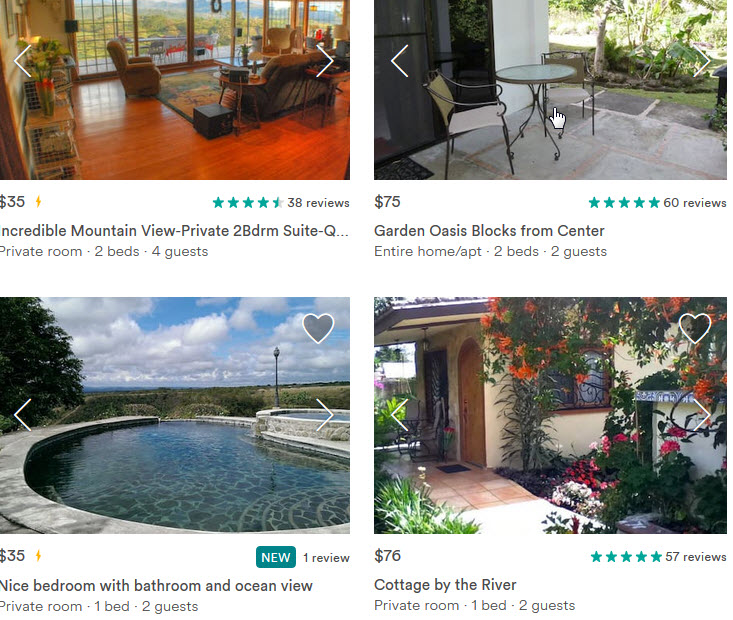 AirBnb has been very successful in Panama as it is in all parts of the world. Costa Rica just made the service more expensive.  Any taxes collected will come out of the customers pockets.
A bill being prepared by the hotel union would force platforms such as Airbnb to pay 13% sales tax and an additional 5% for national parks.
The bill is being drafted by the National Chamber of Tourism, which intends to submit it to the Legislative Assembly. If passed, this law would take effect for all platforms used for renting accommodation for tourism purposes, such as Airbnb, Homeaway and others.
"… The proposal aims to force these kinds of businesses to pay 13% sales tax and an additional 5% tax which would be used to strengthen national parks. This additional charge would be applied only to those hosts that do not have tourist declaratory status granted by the Costa Rican Tourism Institute (ICT); thus the government would have a voluntary list of contributors."It is an issue of responsibility in the sector," said Abarca, who denied having a special interest in putting an end to the competition but, rather, in formally integrating these rental platform, to be able to compete on equal terms."
Days ago Airbnb representatives met with the government and proposed a plan to implement payment of sales tax. See: "Airbnb Wants to Pay Taxes in Costa Rica"
Thomas H. Brymer II
We invite you to visit our country and learn if
Panama Real Estate
is right for you.