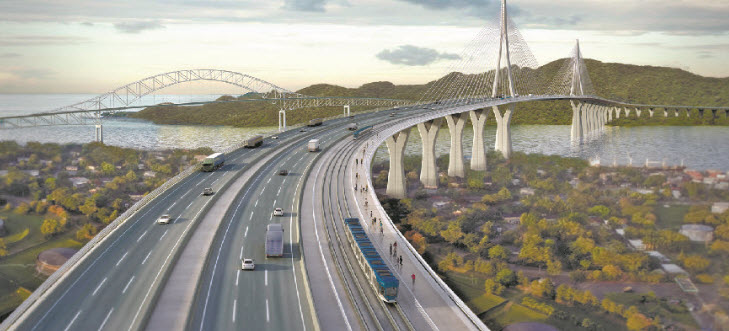 After being postponed twice, the Panamanian government has announced that the date for opening proposals in the tender to design and build a fourth bridge will now be October 4.
A statement from the Presidency states that " …The Fourth Bridge over the Panama Canal must meet a number of requirements such as: gauge or minimum height over navigation channel of 75 meters, among other technical specifications. The works will not affect the operation of the Canal during the construction stage."
See: "Panama: Fourth Bridge Over Canal"
"… The project also includes two interchanges: El frijol (Albrook area in front of Marco A. Gelabert airport) and Western connection with the Pan-American Highway and Veracruz. The work is scheduled to begin at the end of the current North Corridor, approximately at the height of the Metro Line 1 station in Albrook, continuing parallel to Roosevelt Avenue until reaching Cerro Sosa in Balboa, and joining the Panamericana Highway at the West Canal area."
See details of the tender.
Thomas H. Brymer II
We invite you to visit our country and learn if
Panama Real Estate
is right for you.