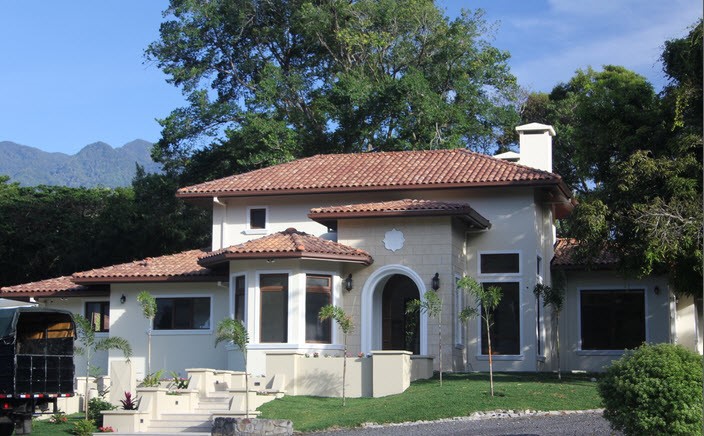 In this post, I will share some of my experience with building here in Panama.  This is packed with ideas that I can share with you and hopefully I can help you with your building project here.
During  college, I learned the construction trade, building both all wood and all concrete structures.  I developed skills in carpentry and structured steel and concrete mid rise construction.  While I have bought a number of homes that I rebuilt, I never built a new one from the ground up until coming to Panama where I have completed 6 new homes.
Now, I am been building  a new estate home here in Panomonte Estates and I am really excited to be a part of the team.  I finished my home shown above 3 years ago and I get up every morning with a feeling of fulfillment having done this.   There is nothing nicer than owning a home that is custom built with all of your wishlist items.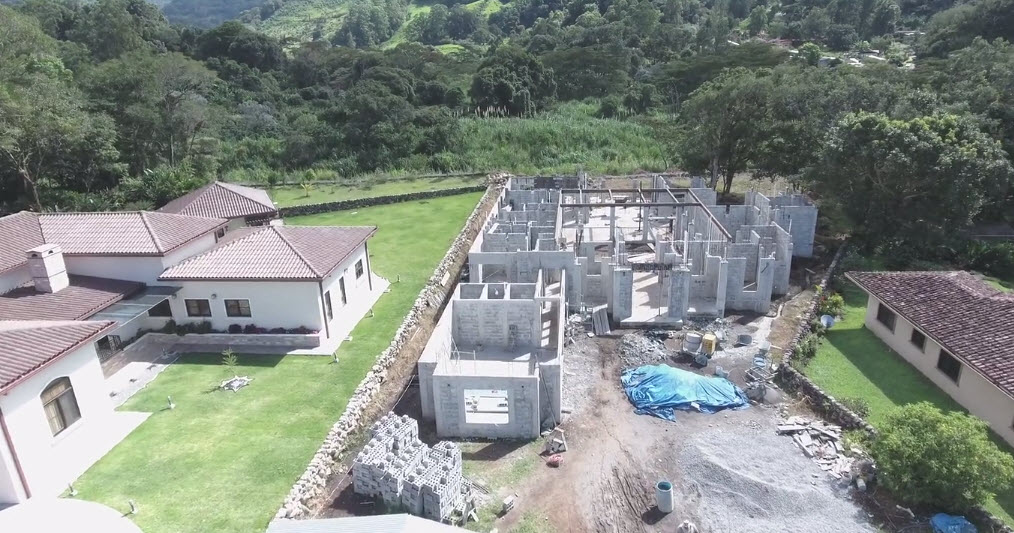 Ever since Susie and I moved into our new home, the bar has been raised in my neighborhood and the homes that are now being built are getting bigger and more luxurious.    My new project consists of a 7,800 square foot 5 bedroom 5 and a half bath home with a glass roof over a huge interior courtyard and a pergola over the outside fireplace patio. It will be magnificent and we are taking every detail into consideration from the initial design to the selection of finish materials and custom cabinetry.
As a note, there is only one lot left for sale in Panamonte Estates.  It can be purchased for $195,000 and we are looking at a floor plan with approximately  4,000 square feet of living area that will fit nicely on the lot.  I can budget the construction of a nice home to be built for around $440,000 or $110 per square foot.  I often hear people tell me that they can build for less and the truth is, you can.  The same can be said that you can spend more.
The first and most important step is to hire the right architect and builder for the job.   It is important to have not only a good design, but a very complete set of engineering drawings and specifications. If you don't have them, you can end up with a cheap house or you could end up fighting with the contractor for extras. It's key to understand that the kind of plans you need to get approval by the government are super basic compared to the actual plans you need to build a house properly. Most house plans do not include for example cabinet designs, ceiling design, location of light fixtures, gutters and downspouts, not to mention detail drawings on steel and placement.  After bidding the job with 2 to 3 builders, you still need to interview the individual and make sure that he or she will be on the job daily if not full time as my builder is on this job.  I never want to hear that he or she was busy with too much work.  Ok, back to where your money goes.
Here are some examples of getting what you pay for in a concrete and steel home. Large spans require large concrete headers and in some cases structured steel "I" beams.  Why compromise when you can build a sliding glass wall vs a couple of picture windows.
This is an incredible system and when you have views of the mountains that we have in Boquete, open your home to them!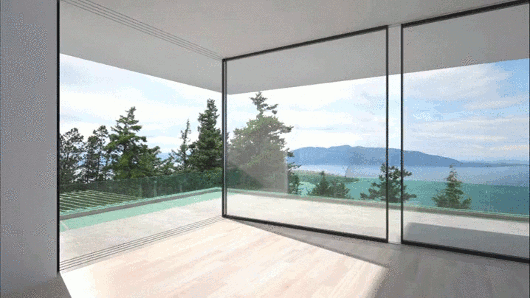 There is a lot of steel going in this new home and the owners will not only enjoy the pride of knowing this but when the next shaker comes, they will be secure.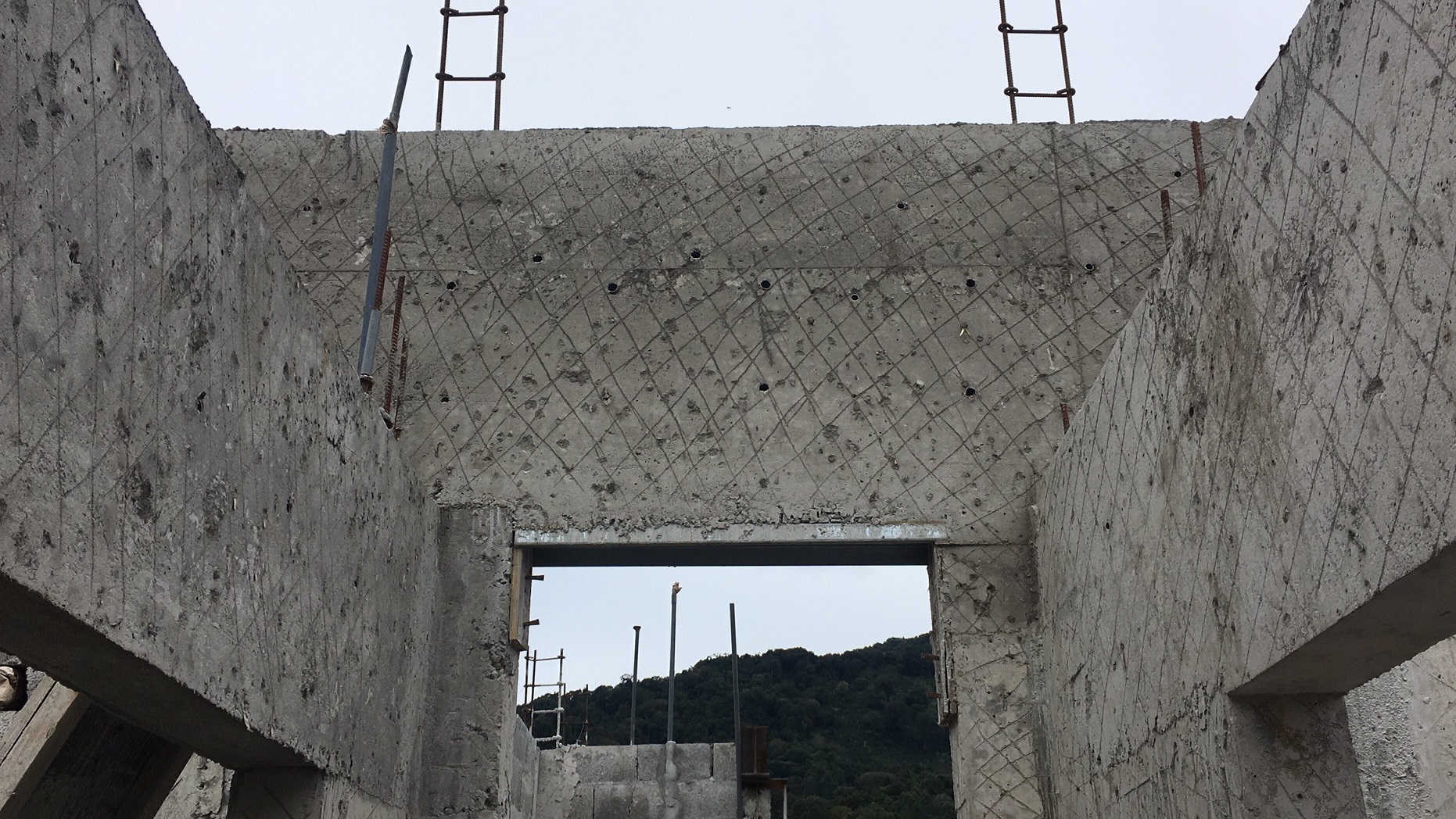 Another thing to take into consideration when building is engineering the proper footers and reinforcing a  slab with steel rebar and then set on a proper vapor barrier.    Attention to detail.  Support rebar with 2 inch dobbies or tie bricks to insure the rebar is in the middle of the slab.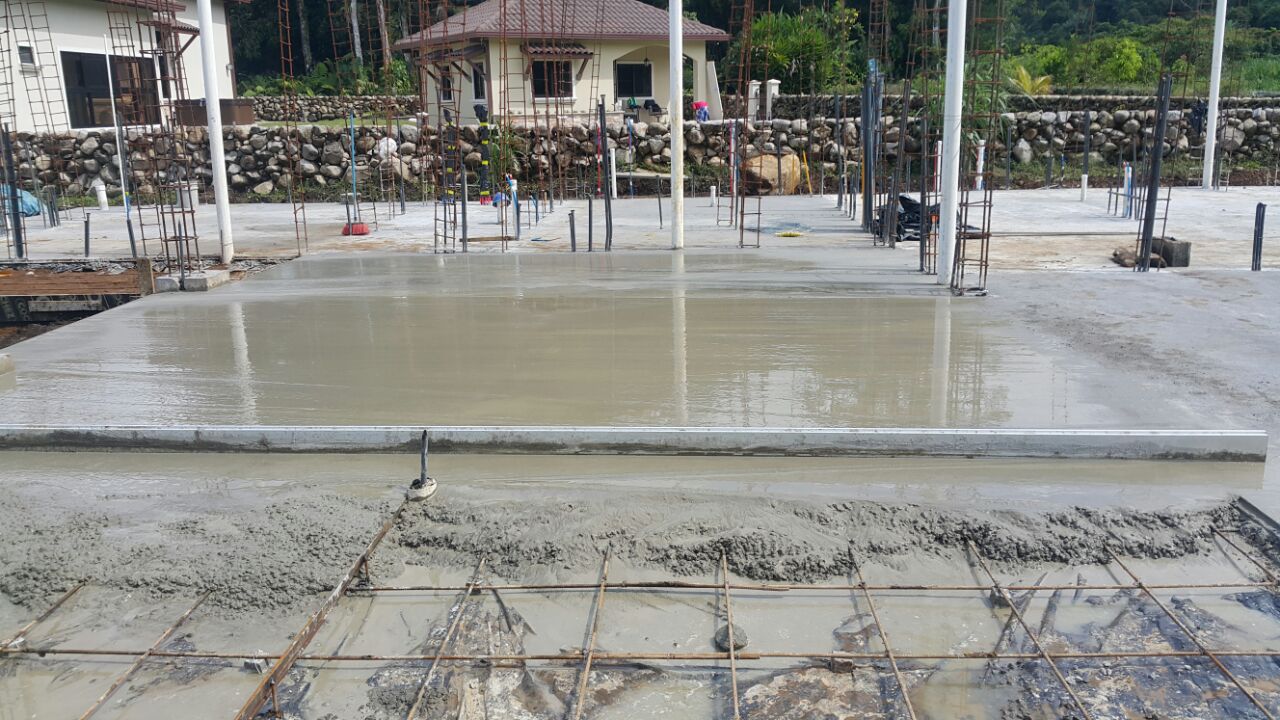 We live in a wet environment here in Boquete and get a lot of rain. Phreatic pressure will force water up into an unprotected slab and cause future mold and mildew problems in a home.  We also have those pesky earthquakes so the proper planning will insure that neither will affect your dream home.
Here is what you typically see on a job site for a slab being poured in Panama.  Yes, you do get what you pay for!!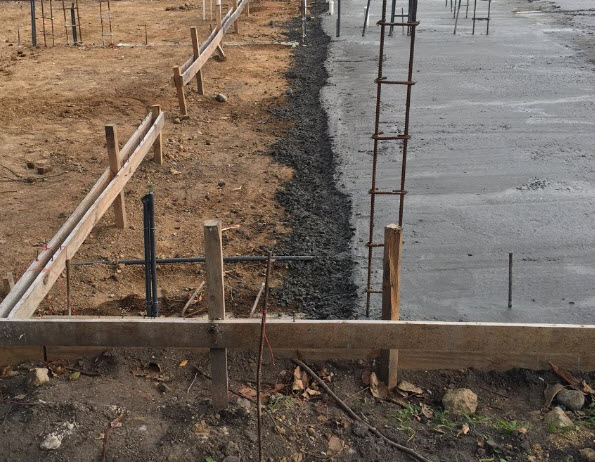 I call this the "slab on mud" technique! Who needs steel?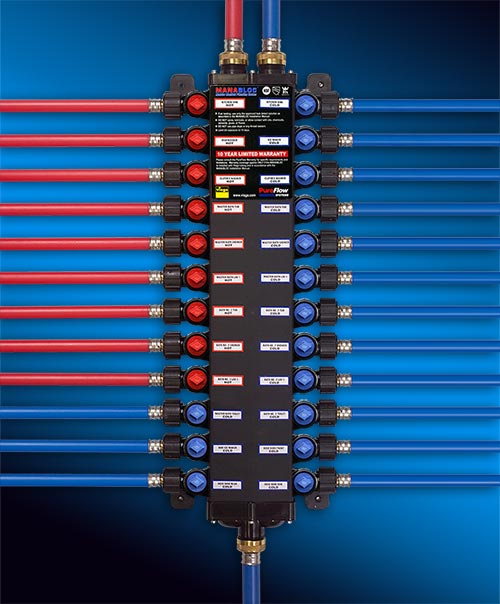 We use a Pex Plumbing System in our homes which is a flexible continuous flow tubular system.  The advantages are ease of installation, only two points of connection, vs. multiple joints and potential leaks as well as flow management with the use of Manablocs shown above.
When we are building the foundation, we use lighting mitigation methods to insure that the home is protected as we do have lightening that comes with living in a tropical environment.  Proper grounding methods and materials are installed at numerous points and tied into the entire steel framework of the home including the reinforced concrete and steel rebar floor.  This will insure the best protection to occupants,  structure and electrical systems.
Another concern often overlooked when building in Panama and other newly developed countries is dealing with the fluctuating current we have that can drop by 25% and shoot back up 10% above normal 120 volt currents.  If you have good quality electrical appliances, computers, security systems and expensive audio video equipment, you should be planning for this or expect to be replacing that equipment before it's normal life span.
We always plan a room in the home that is dedicated to cable systems, both Voice and Data,  IT equipment, security equipment, battery back up and voltage regulation equipment.   We are now using  Cat 7 cables that are the latest class to hit the market, one that allows for up 10 Gbs speeds.  Cable Onda now provides for 500 Mbps cable internet service to a lot of Panama so you can have blistering  fast internet for communication of data.   You  can also work with  wonderful applications like IPTV and not even subscribe to cable TV.  We get 1,400 channels, VOD and Pay per View at $165 per year.    You can buy a Dreamlink T1Plus box on Amazon for only $89 and you get a 4K Android TV Box Streaming Media Receiver w/ PVR Recording Feature.  
The War Room.  All critical electrical circuits come to a panel in this room and are centrally protected.  Power quality problems can be as obvious as electrical components that are damaged or fail prematurely or as subtle as equipment that randomly malfunctions. The real problem with poor power is how much it costs in terms of damaged equipment that must be replaced.  The expense all of doing this pales in comparison to replacing high end appliances and audio video equipment.  This is where good quality voltage regulators come into play.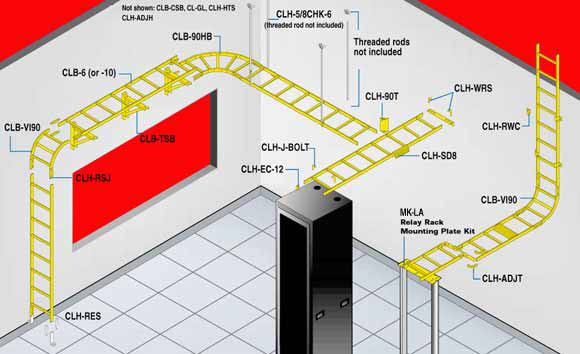 Rack and Rail System  – Proper planning
Properly rack mounted equipment with good cable rail management systems will make for ease of maintenance, repairs and replacements of any components if  needed.
So now we are at the stage of construction where we finished the slab, exterior and interior walls, tie beams and structural steel.  We have properly grounded the home and installed our plumbing system.  All electrical and cable conduit is in place and centrally connected to our dedicated IT/ Electrical room ready for future installation.  We will soon be mounting the roof structure and it is an exciting time watching and working on another dream home in Paradise.
Please contact me if you would like to discuss building your dream home in Paradise.  We can tour my home and another under construction so that you can see this process first hand.
Part 2 Coming Soon
Thomas H. Brymer II
We invite you to visit our country and learn if
Panama Real Estate
is right for you.