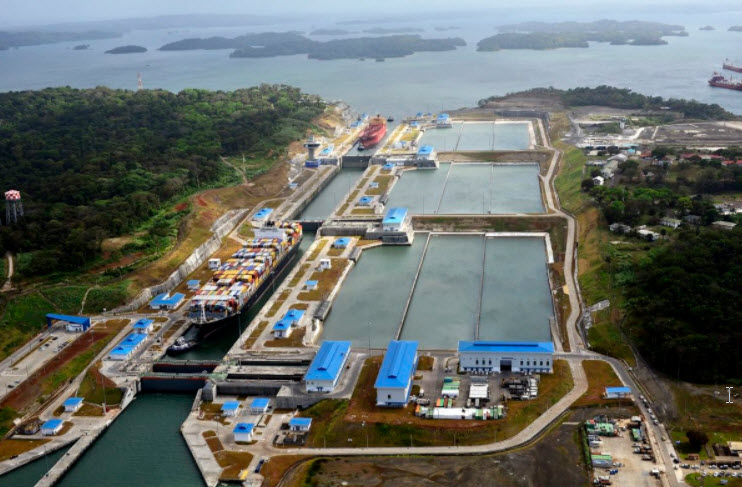 Panama wants to make the most of its geographical position to supply the rest of the continent with energy.
Panama's government wants to use its pivotal location and liberal fiscal policies to transform the country into a regional power and energy hub, putting itself ahead of competitors in the region.
Last year's $5.4bn extension of the Panama Canal, which has created the option for ships carrying cargoes of liquefied natural gas to travel between the US and Asia, is a catalyst for the development of a gas hub.
The US-based AES Corporation—an electric power distribution company—will open the 1.5m-tonnes-a-year Costa Norte LNG terminal and power project in Colon, at the entrance of the Panama Canal, next year. A gas-fired power plant is expected to come online in the third quarter of 2018, followed by an LNG terminal with a floating storage and regasification unit (FSRU) in 2019.
Around a quarter of the facility's total LNG capacity will fuel the 380-megawatt power station.
AES's chief financial officer Kristina Lund, told a Panama investment forum in London in October, that the introduction of natural gas into Panama for the first time would allow it, and other import-dependent neighbours easy access to LNG supplies—prices for which tend to be less volatile than oil.
Mauro Chavez, an analyst at Wood MacKenzie consultancy, says that although there is a glut of available LNG globally, gas demand in the Caribbean and Central America will surge six-fold over the next decade. LNG will be distributed throughout the region by tankers, smaller ships and trucks. Eventually, an electricity transmission grid will be built to provide power to other Latin American nations.
"The power sector will become a hub for energy in the same way that we are a hub for maritime commerce of cargoes that run through the world," said Gilberto Ferrari, general manager of Empresa de Transmision Electrica (Etesa) at the investment forum.
Colombia, Jamaica, Dominican Republic, El Salvador and Puerto Rico all have regasification projects proposed or underway. Wood MacKenzie estimates that regasification capacity in the region will double if all the proposed projects materialise in the next few years.
But Chavez says Panama's geography and more appealing investment climate give it an advantage over its regional competitors.
"Panama has very attractive policies for gas producers, including fiscal incentives you don't see elsewhere in the region," he added. A company based in Panama, which produces equipment for natural gas power generation plants, can enjoy a 20-year tax holiday. There are tax abatements for imported gas equipment and fiscal credits of up to 5% of corporate tax. The other major advantage Panama has is its location, particularly as a storage and bunkering point for LNG arriving from the US en route to Asia or Europe, Chavez says.
Nevertheless, there've been some teething problems. Octavio Simoes, president of LNG export terminal developer Sempra LNG & Midstream, told a separate investor forum in October that up to a third of ships were experiencing delays.
"Whoever thought there would be no delays has never done a project of that size," Etesa's Ferrari said. "There were $200m in extra costs [for the extension], and we don't have that money—but things are always more expensive tomorrow than today."
The capacity has been doubled with about 50 slots available for ships passing through its locks every day. It takes about eight hours—a much quicker alternative than the several weeks needed to travel around South America.
Ferrari concedes that yet more expansion will be needed in the decades to come. "We have moved from ships and boats [going through the Panama Canal] to the transit of cargoes. Now we want to take advantage of the opportunities that transit presents," He said.
Green expansion
Panama is also looking to double its renewable energy capacity by 2050, much of which will go back into the country's energy system to support an economy which grew by over 7% per year between 2001 and 2013, according to the World bank. Last year's GDP growth slowed, but was still an impressive 4.9%.
Panama aims to export any excess power generated from renewable energy, some in the form of electricity to neighbours via interconnectors. The intention of additional power generation from renewable energy will improve domestic energy security, while electricity exports will further boost its economy.
Panama hopes to trade on its reputation as one of the more highly-developed and transparent Latin American nations with an efficient financial services sector to attract investment. The country is keen to lure investors to its renewables sector, as well as to others including mining and tourism, which will in turn increase demand.
The absence of tariffs and taxes for imports of materials needed for the development of Panama's renewable energy sector, such as solar panels, as with gas equipment, are an attractive part of the package.
UK-based solar company Solarcentury began construction of 10MW solar plant in Panama two years ago. Speaking at the Panama Invest 2017 event, chief finance executive Neil Perry said the experience had been positive—but there were challenges: "Wading through the bureaucracy was quite difficult and there were some delays because of that."
There were also problems with the supply chain, such as finding suitable sub-contractors and products, and challenges including getting treated water to clean the solar panels. "It's not unexpected, of course, when it's a nascent market, and we were the first to do a project of this size," Perry said, adding that it planned further projects in Panama.
Ferrari said 90% of Panama's electricity could come from renewables during the rainy season—up from around 56% now—which is ideal for generating wind and hydropower.
Wood MacKenzie analyst Chavez highlights that integrating power networks between Panama and its neighbours will be difficult because it's proposed in an area of delicate biodiversity.
But Ferrari said expansion of the network will be key to supply security.
"The bigger the (power generating) system, the less the volatility," Ferrari said. "We would go from being a 1,500MW network in Panama to being a 10,000MW system in Central America. It will be more stable, and mitigate the risk of renewables."
Thomas H. Brymer II
We invite you to visit our country and learn if
Panama Real Estate
is right for you.