PANAMA ADVISORY INTERNATIONAL GROUP represents its clients in the disposition of certain properties. Please let us know what interests you and if we do not have a suitable property listed below, we will locate one for you.
____________________________________________
Featured Villa
Luxury home in Panamonte Estates Asking $895,000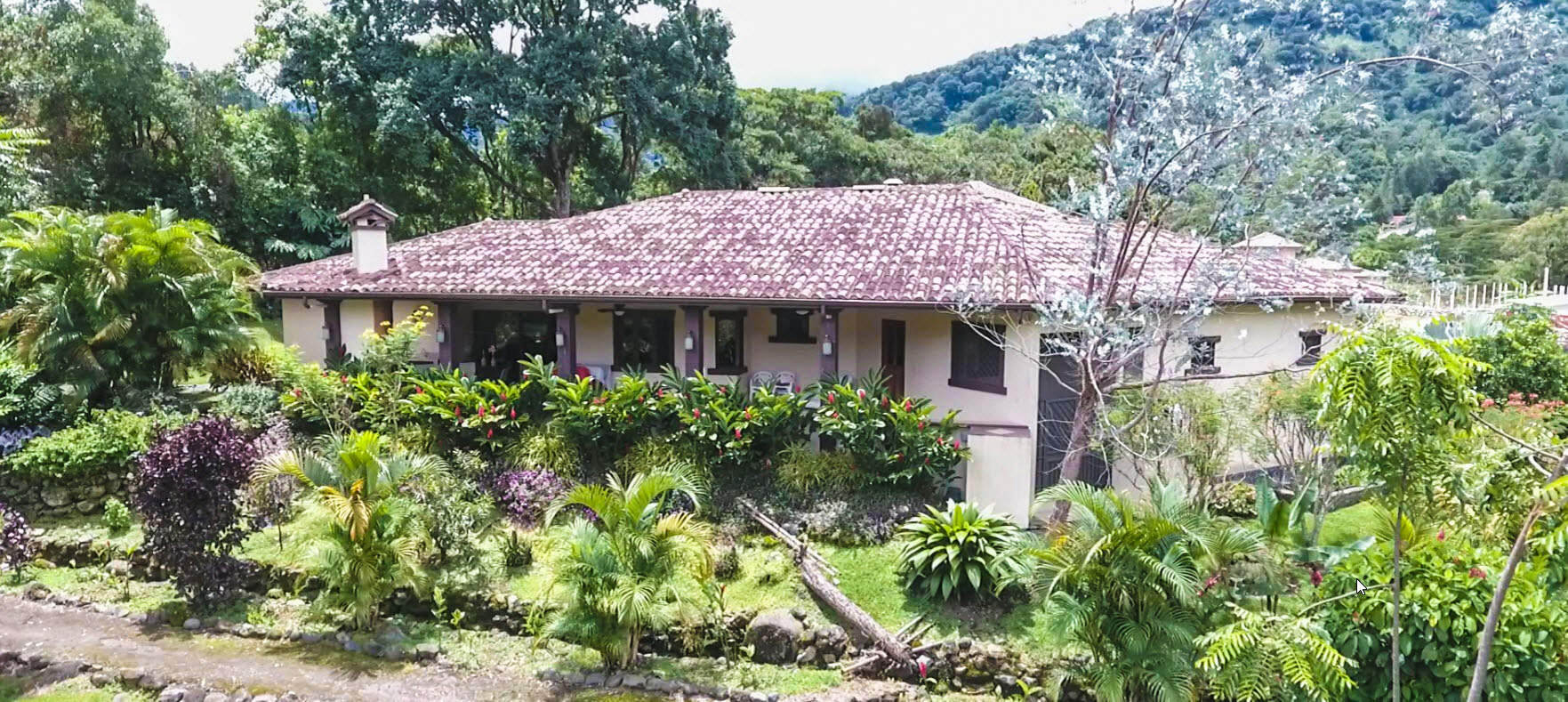 Panamonte Estates is home to some of Boquete's nicest residences and is by far the best gated community in town with only 26 lots and 21 existing estate homes.  There are two common area green parks totaling over 2 and a half acres including one on the river that is enjoyed by the home owners. It has been years since any of the homes here have been on the market for sale and the last one was sold at a premium.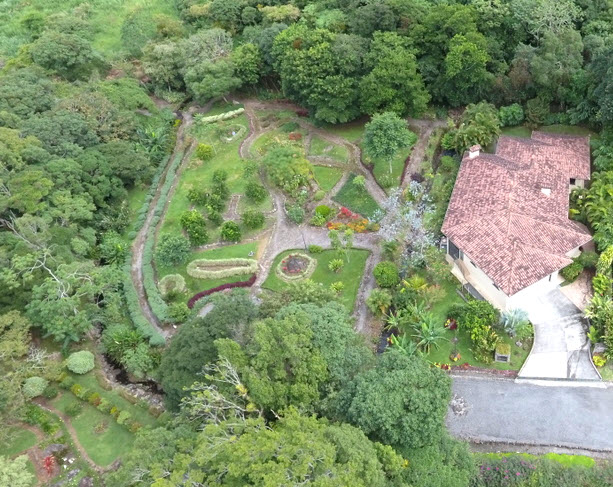 Panamonte Estates is home to some of Boquete's nicest residences and is by far the best gated community in town with only 26 lots and 21 existing estate homes. Click on the picture above to see an aerial video.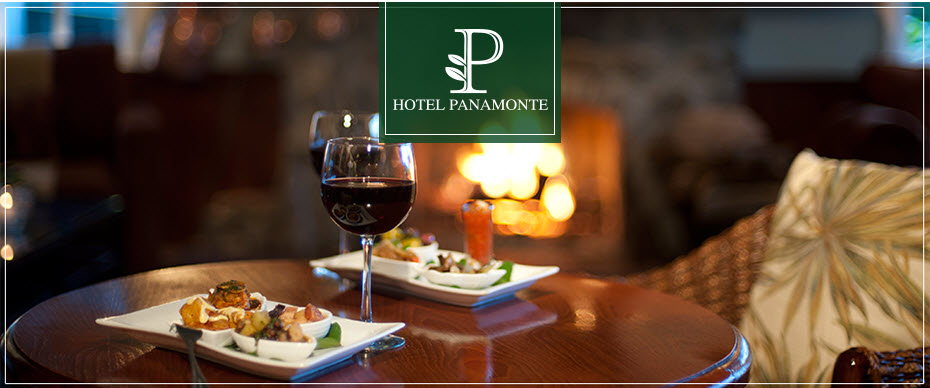 The project was started many years ago by the owners of The Panamonte Hotel which is a nearby landmark here in Boquete.
Panamonte Estates has two common area green parks totaling over 2 and a half acres including one on the river that is enjoyed by the home owners. It has been years since any of the homes here have been on the market for sale and the last one was sold at a premium.
As you can see this home is next to multi-million dollar estate homes including one of 8,000 sf that is under construction.
Property Facts:
Lot (#12) Size is 1,185.45 m2 or 19,953 sf
Home size is 433.49m2 or 4,666 sf
Year Built 2011 and registered in August 16, 2012
Real Estate Tax Exoneration until 2021
Registry Value is $126,000 for the home and $80,000 for land with annual real estate tax on the land of $942.48
_____________________________________________
Last Lot in Panamonte Estates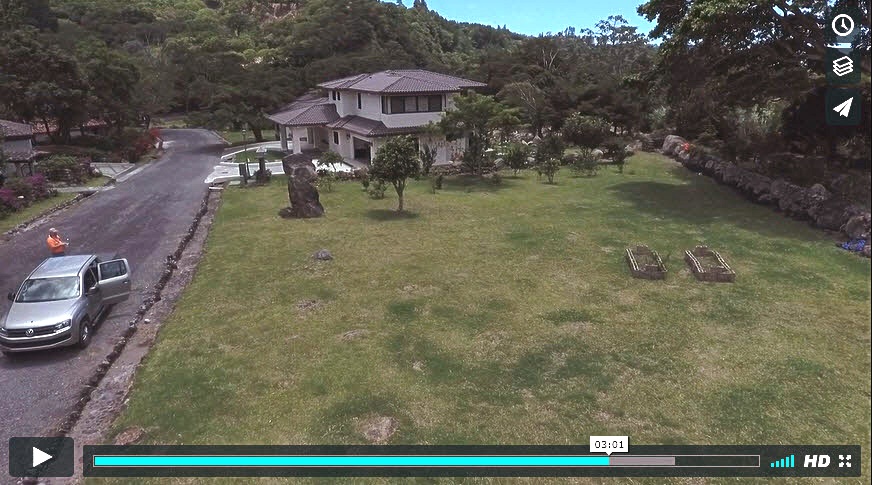 We are proud to announce that the owners of Lot 22 have given us an exclusive listing to sell the last lot available in Panamonte Estates.  We live in a home that we built on Lot 11 and we are currently undertaking the project management for the home being built on another lot here.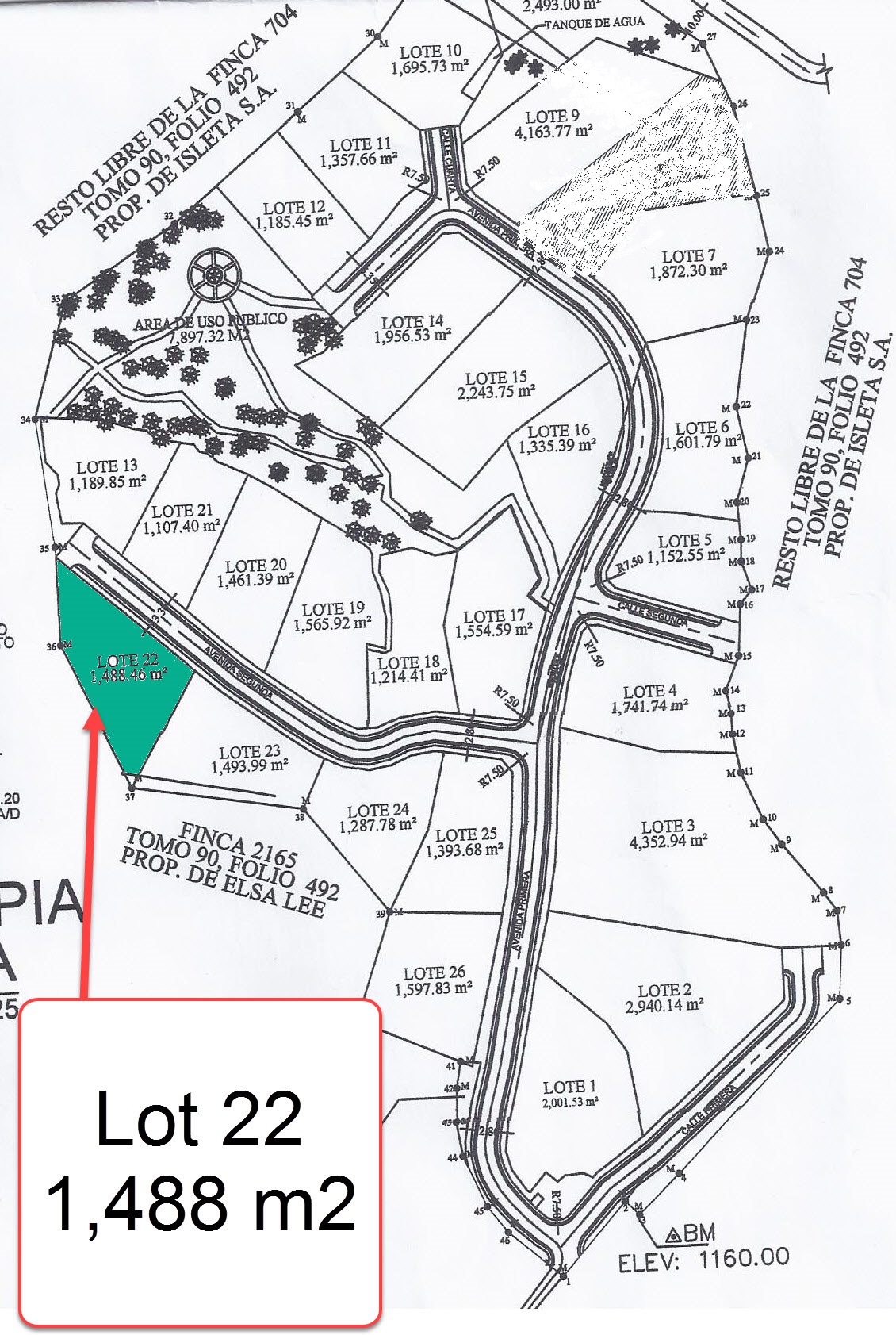 Asking $195,000  More….
____________________________________________
Beautifully Decorated Golf III Villa – Asking $414,000 
Reduced to $399,000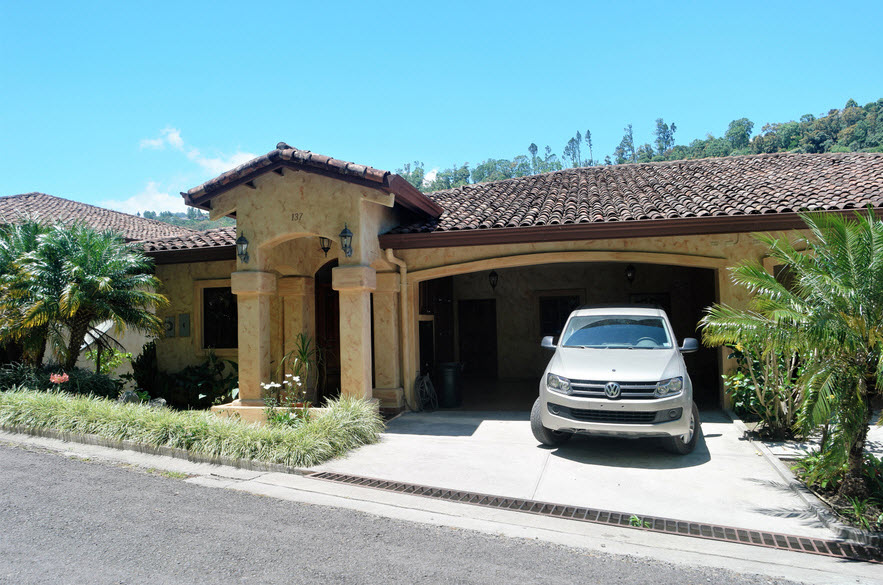 This Golf III villa has 3 bedrooms, 2 full baths, a half bath, two terraces, a double carport and approximately 2,800 square feet of area.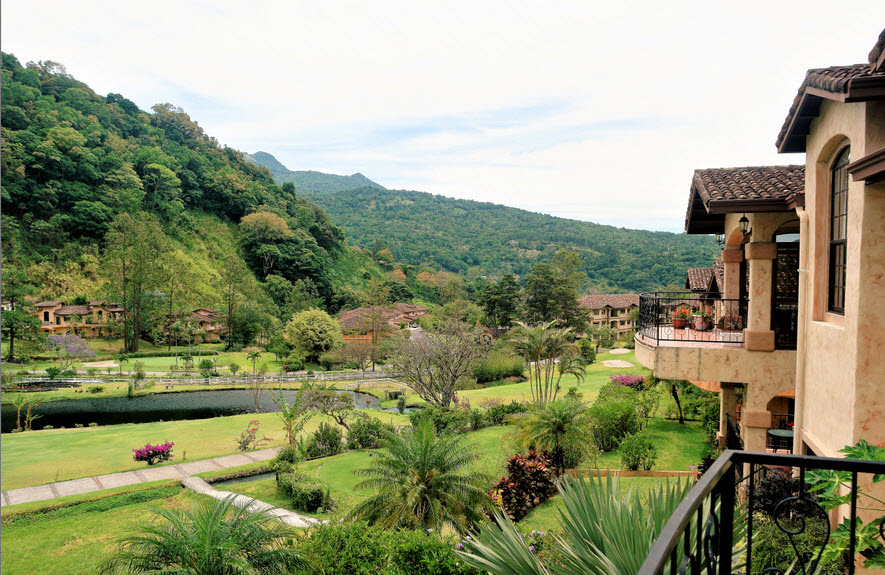 The views are incredible and the morning sun wakes you up with dawn breaking around 6 AM and by 7 AM you are getting a sun tan in bed!! The easterly exposure of this home allows the sun to bath the unit in morning light through numerous windows and the sliding glass doors on the upstairs terrace where you will enjoy breakfast every morning.
Take a fly by of the best villas in Valle Escondido. Click on the following picture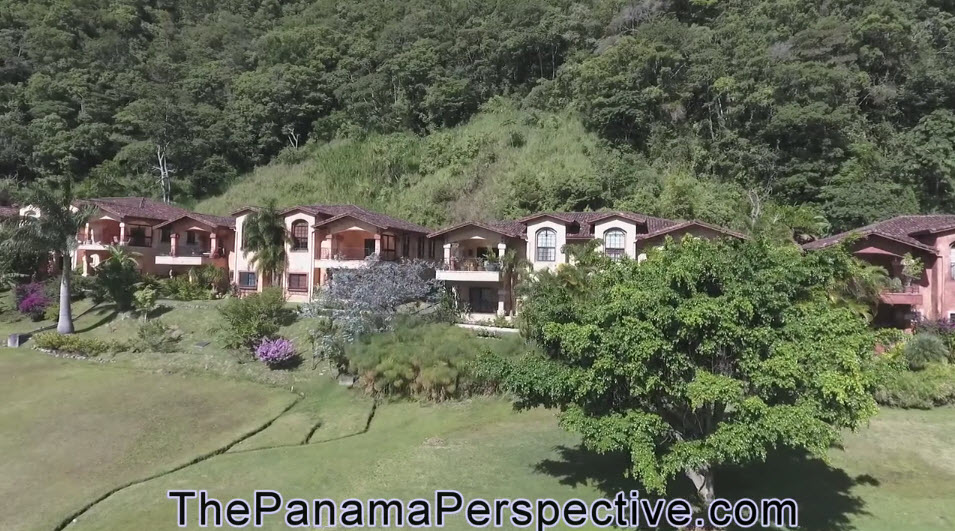 ____________________________________________
Boquete Gardens – Luxury Homes for Rent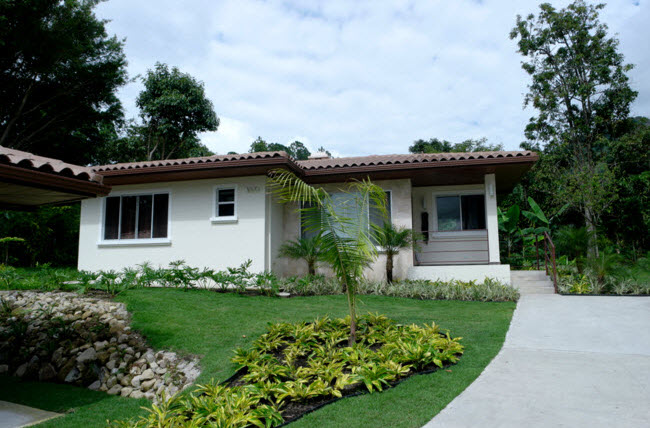 Villa 1 and 5 are available for immediate occupancy and may be rented for 6 to 9 months for $1,500 per month.
The owner will remain on site in one of the homes to insure that the quality of this community remains at the level he has established.  Boquete Gardens is located is walking distance to town and short drive to several excellent restaurants and stores. See more on this offering our latest drone aerial.
_________________________________________
Valle Escondido Penthouse Condo for Sale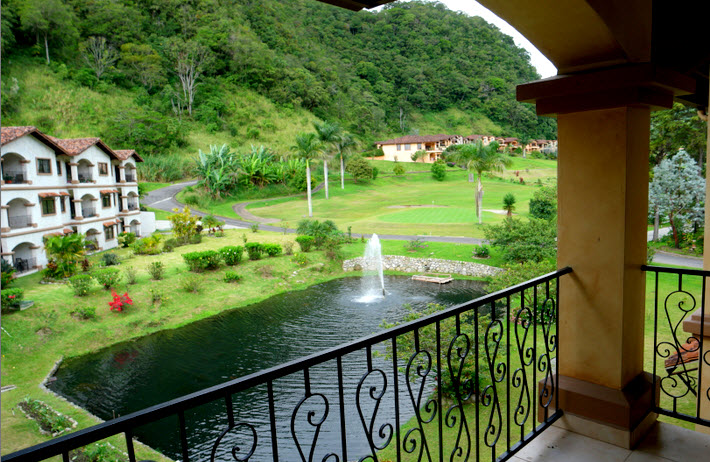 Located in the gated community of Valle Escondido, with 24-hour security and fantastic mountain views.  Three-year old, penthouse unit of a 9-plex condominium building sited near the entrance gate, with a lovely balcony view up Valle Escondido.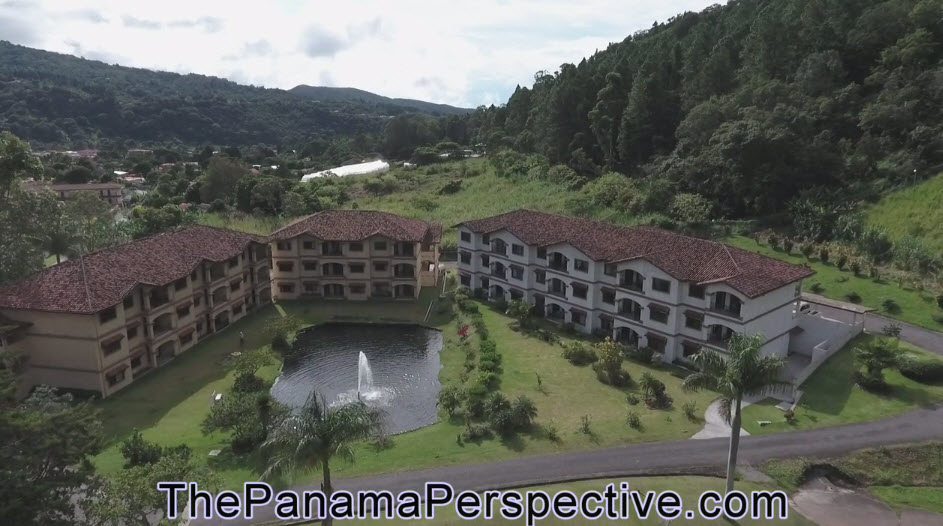 Watch the drone video by clicking the above picture.
A reserved covered parking spot is provided. This condo comes with membership to the Valle Escondido Spa and Golf Course Resort (fitness membership currently).  Experience eternal spring in this western Panamanian highland retreat.
All this for only $245,000
See the rest of the photos here
_________________________________________
Best Value in Valle Escondido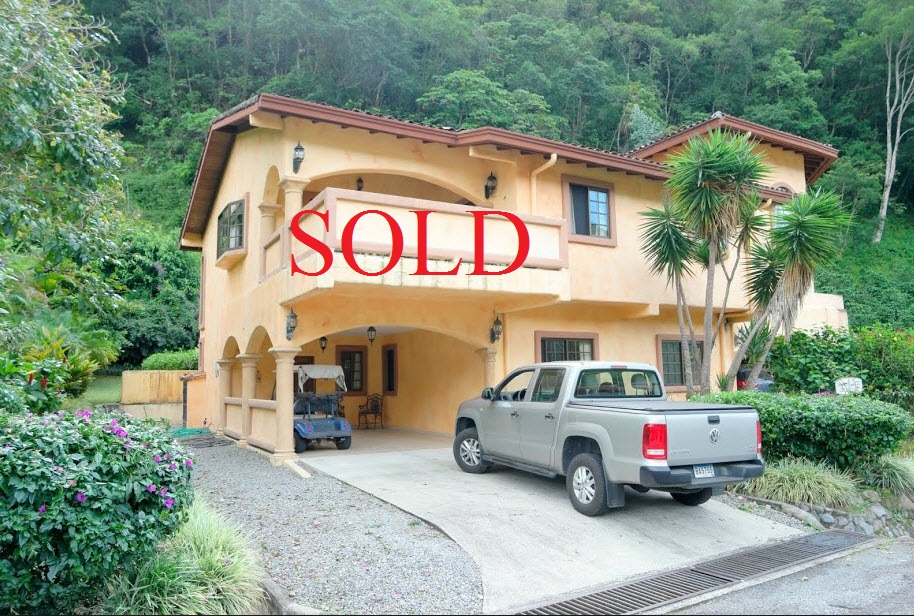 This two story walk up duplex has approximately 2,000 sf of total area of which 300 sf is in the carport and 150 sf is terrace area.  It has two bedrooms, two baths, a huge balcony and a very nice gardens in back.
I have sold four of these popular villas.
____________________________________________
1250 acres Mountain and Ocean view land for sale
Reduced to $6,000,000 or $1.18 per m2
Panama Advisory International Group is pleased to announce that we have been retained by the shareholders of this property on an exclusive basis.
This fully titled property consists of 509 hectares or approximately 1,250 acres in several large tracts.The property has numerous streams providing a constant supply of good water and there is canyon frontage on a major river with a huge waterfall. There is a section of the land that has three sources of water that could power a 10 MW hydro facility. More…
____________________________________________
Spacious Valle Escondido Townhouse For Sale – Sold
Another new exclusive listing
This townhouse was built in 2002 and sits high on the ridge of the valley in Valle Escondido.  the terrace looks out to the other side and up the valley to Volcan Baru.
_____________________________________________
Jaramillo Mountain Estate Home – Sold
          Another Exclusive Listing of Panama Advisory International Group Midway up Jaramillo Mountain is a small cluster of estate homes that share the most incredible views of Volcan Baru, an 11,400 foot high mountain. Nestled in a coffee plantation planted in Geisha and other varietals along with banana and orange trees, this 4 bedroom 4 bath home has 323 meters or 3,476 square feet of living area.
__________________________________________
Panamonte Estates next to Downtown Boquete – Sold
We have just sold the last two lots near our home and there is only one lot remaining in Panamonte Estates. When that is gone, there will be no more as homes are being built on the last three that sold and plans are underway for the two that I sold. This 15,650 sf lot has building concept plans for a 2 story home of 3,500 square feet including 3 bedrooms, 3 and a half baths and a 2 car garage. Asking $195,000 this last lot will sell. Contact me for details
__________________________________________
Alto Jaramillo Estate – Sold Twice!!
Another Exclusive Listing of Panama Advisory Group
The owner has completed extensive renovation to this estate home and it is now ready to view. Renovations include new electrical systems, fans, lighting all new kitchen appliances and more. This is a$550,000 estate that the owner wants to sell quickly for $439,000.
_______________________________________________________________________
Premium Building Lots in Boquete's best areas
An exclusive listing of Panama Advisory International Group. We have 6 new lots for sale in Boquete that we feel offer excellent values for anyone interested in building a home here. We can now offer you services to assist you in the design-build process to make sure your dream home comes in on time and within budget. More….
________________________________
Boquete Country Club Condo for Sale – Two units Sold
With Views out to the Pacific Ocean from one of the large terraces and the 11,400 foot high Volcan Baru from another private terrace, this Mountain View Condominium at the Boquete Country Club is one of the nicest properties in Boquete.  You have all the amenities of a gated community, proximate to the center of town but far enough away to live in peace and quiet when the festivals are in full swing, which we do have a lot of here in Boquete.  This spacious 2 bedroom 2 bath home has a total of 2,400 square feet of interior and exterior space including private terraces, one of which has enough room for a large jacuzzi, outdoor kitchen, seating area and an incredible unobstructed view of the mountain.  There is a lot of glass in this unit with plenty of natural lighting and beautiful views from every room.  More….
__________________________________________________________________________________________________________________________________